Visionbag Automatic Mailing Machine
Pictures for illlustration only, Visionbag machine with uplift conveyor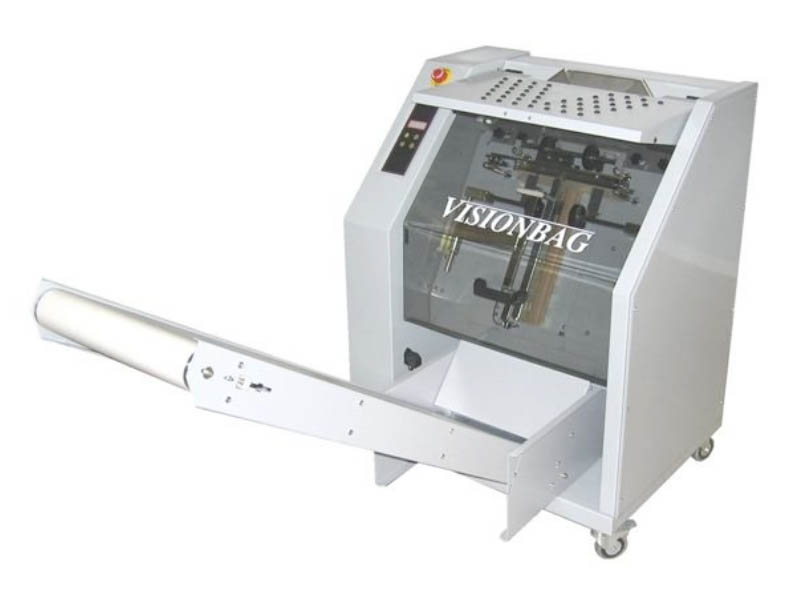 Features
Independent digital control of cross and longitudinal sealers
Powered film unwind
Adjustable bag width and length
Pack Count
Programmable memory for different packs and films
Technical Data
Production Speeds, dependant on pack dimensions & film (upto 1200pph)
Min Pack Width 160mm
Max Pack Width 250mm
Min Pack Length 100mm
Max Pack Length 360mm
Max Film Thickness 30micron
Machine Dimensions 600mm x 840mm x 1050mmH
Weight 144Kg
Power Supply Single Phase
Power Consumption 0.6Kw
Uses Single Wound Sheet (SWS)
Infeed & Outfeed Conveyor information available on request
Vision mail is a digital compact poly bagging mailing system, ideal for office or mailing room environment. The single phase (no air) system is easy to use with castors fitted, the system is easily moved from one location to another with a minimum fuss.
Once the product, e.g. magazine, documents are inserted, a photo eye detects the pack and advances the film and product to the sealing system. A combination of cross and longitudinal sealers encapsulate the pack as well as creating a seal for the next product.
The finished pack drops gently away to a collection area or motorised discharge conveyor.

We look forward to working with you.