Banding – Semi Automatic
The Bandall range of semi and fully automatic banders can change from using either poly-coated paper or clear plastic banding material, with minimum machine adjustment.
The banding material is held in the arch by a unique vacuum system therefore ensuring a speedy accurate operation with thinner gauge materials than other machines in the market place. The use of thinner materials gives cost savings over our competitors and reduces packaging waste.
All of the above machines can then be supplied for use with the following band widths, 28mm, 48mm, 75mm, 100mm & 125mm. In addition to the standard arch sizes detailed below, Bandall can manufacture machines to suit customers specific requirements.
A range of standard arch sizes are available:
B24: 240mm x 150mm (H)
B32: 320mm x 200mm (H)
B40: 400mm x 250mm (H)
B48: 480mm x 300mm (H)
B56: 560mm x 350mm (H)
• Compact design
• Product rate up to 35 cycles pm
• Automatic band feeding
• Adjustable tape tension
• Special arch Sizes available*
• Machines run using either 35-50-80micron polypropylene film or banding paper (plain or printed), coated and / uncoated
• Band widths 28-48-75-100 &125mm
• Standard and specialied  tapes available from stock
• Push button, foot switch or photo cell control
• Quiet running
• Robust construction
• Programmable pack controller
• U.C.S. (Ultra Clean Sealing)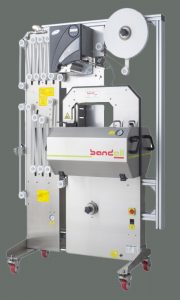 Bandall (Stainless Steel):
Machines can be manufactured in Stainless Steel making them ideal for use in food manufacturing plants.
The side feeding system also allows for an onboard printer to be mounted onto the unit in an easily accessible location for printing best before dates, bar codes, prices and other product information.

We look forward to working with you.