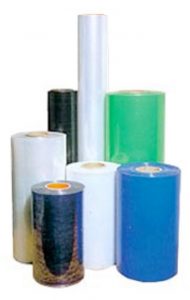 In line with Erapa's aim of total product support, we offer our customers a comprehensive range of shrink films to compliment the range of flexible packaging systems we offer. At Erapa we understand that consistency and quality of film are essential to our customers in order not to compromise productivity or presentation. We insist on all of our films being of the highest quality and consistency and after extensive market and product research, work in partnership with only well established and reliable manufacturers.
Erapa offer our customers the following generic grades of shrink film:
Polyolefin – supplied by

Sealed Air

PVC
Polypropylene
All of our films are available in various widths and thickness. We supply industrial or food grade shrink films as required, in Single Wound or Centre folded. Erapa are also able to supply bespoke films such as full colour print for our customers. Erapa are able to satisfy all our customers' flow wrap material requirements from plain polypropylene through to printed metalised and barrier materials, as well as coated material for cold seal applications.

We look forward to working with you.